As a recipient of a grant from Cuyahoga Arts & Culture, you're more than a grantee, you're a cultural partner. In our effort to inspire and strengthen the community by investing in arts & culture, we rely on you to make that mission a reality.
Funding from Cuyahoga Arts & Culture is different than grants from foundations or private donors, because each dollar we invest comes from Cuyahoga County residents. We've set some expectations to maximize the impact of this public funding and our work together. Click on each item below to view easy instructions, helpful examples and numerous resources and links:
To maximize the impact of your grant, we expect that you'll partner with us throughout your grant period to connect your organization's staff, board and community to CAC and its resources.
Post events & jobs: As outlined in your grant agreement, cultural partners are required to post events | and encouraged to post jobs | to CAC's online events calendar, ClevelandArtsEvents.com. By posting your job or event as often as possible, you can foster connections in our community.
Communicate with us: In addition to grant reporting requirements, we encourage your primary contact to communicate regularly with your program manager. Let us know as soon as possible about updates to your staff, location or other material changes. Not only are we genuinely interested in your work, but we can also connect you to helpful tools, people and resources.
Example
Events submitted to our site become eligible to be publicized in our events e-newsletter, which reaches over 15,000 Cuyahoga County residents. In 2017, Art Therapy Studio posted over 70 events to CAC's online calendar, including classes and showcases. Follow these tips for the best results:

The Music Settlement event above is a good example of these tips in practice.
Resources
As partners, we expect that you will regularly share stories with CAC—not just at reporting time. By sharing stories that highlight your work and how funding from CAC helps you deliver on your mission, you can be featured in our newsletter, website and social media and demonstrate the importance of public funding to our community.
Partner with us: Share stories that feature how your organization connects with and helps residents of Cuyahoga County create, connect and express themselves.
Talk about us: Consider CAC when advertising, in media relations and when sharing your stories with the community. Remember that funding from CAC is unique, and communicate the value of public funds to your organization.
Example
Saying "thank you" on social media is easy and effective. It's important to not just thank Cuyahoga Arts & Culture as a funder, but explain how public dollars have helped you carry out your mission and serve your community.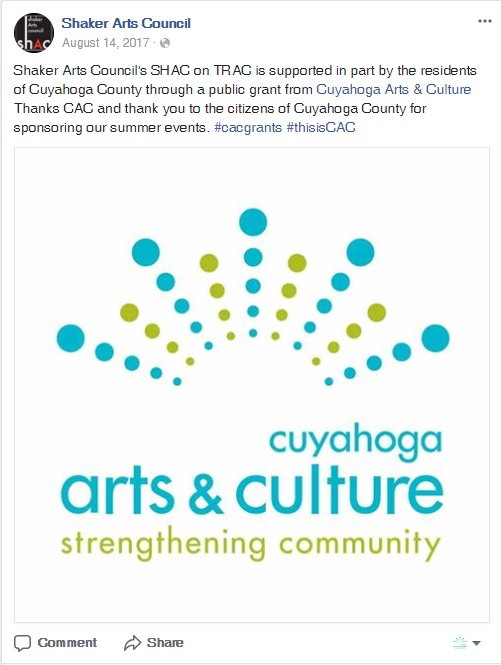 A Shaker Arts Council Facebook post tagging CAC.
Resources
We're proud to serve as your public funder for arts and culture. As partners, let's express our gratitude to Cuyahoga County residents—the source and ultimate beneficiaries of public funds. Make sure residents know that your organization or project benefits from public funding, and that they're invited to experience it.
Credit us: Your grant agreement requires you to acknowledge CAC as often as appropriate. Make a plan to effectively use our logo or credit line in print and digital materials, such as: Promotional materials; Advertising; Electronic communications; Event programs, program books, playbills or handouts; Media interviews/Verbal credit; Venue or exhibition signage; Annual reports and published documents; Educational materials; Benefit events and fundraising

.
Example
Beachwood Historical Society thanked the residents of Cuyahoga County for the public support of their 2015 Arbor Day project by displaying the CAC logo on their mascot and displaying CAC yard signs and a banner at their venue. Their staff also arranged for CAC to address their local government about public funding for the arts.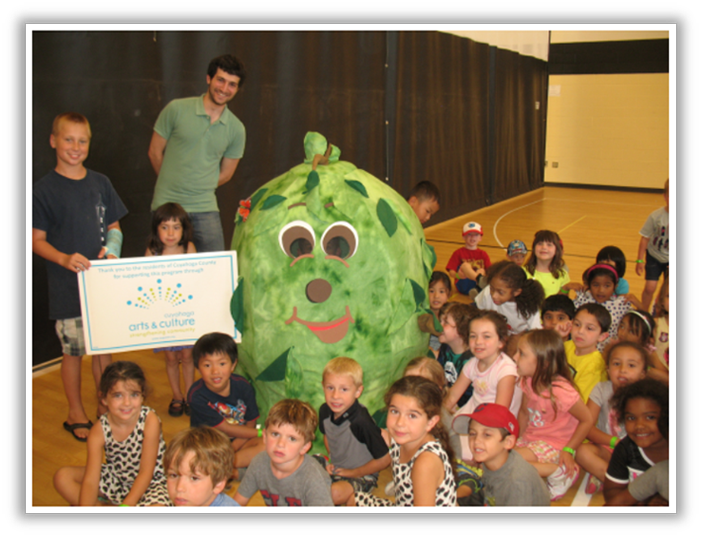 CAC yard sign with Beachwood Historical Society attendees.
Resources
We encourage you to share these expectations with the marketing, communications and other appropriate staff members in your organization. Thank you for partnering with us to create a stronger and more vibrant community for Cuyahoga County residents to explore and discover.
Credit Line: "Organization name/program name is supported in part by the residents of Cuyahoga County through a public grant from Cuyahoga Arts & Culture."
---
Questions? Contact your program manager:
General Operating Support
|
Project Support
.
Note: The Cultural Partner Expectations outlined in this document are part of your signed grant agreement. Questions? Please contact your program manager.