Term: April 1, 2019 – March 31, 2022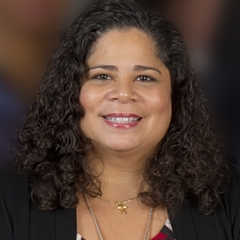 A resident of Cleveland, Nancy Mendez is the Vice President of Community Impact at the United Way of Greater Cleveland.
Nancy Mendez joined United Way of Greater Cleveland in 2009 as the Program Director for Aging and Special Needs. Following a promotion to Director of Health, she supported programs in the area of prevention and wellness, chronic disease management, mental health and health care coordination. In her current role, she is responsible for developing and managing the department's approach for the design, development, testing, implementation, and evaluation of community programs, impact products and services. She is also responsible for ensuring an effective allocation process and grants management. In 2013, Ms. Mendez was selected as a United Way Global Fellow.

Previously, Nancy worked as the Program Director for the Center for Minority Public Health of Case Western Reserve University which focused on community-based research. Ms. Mendez was named as a 2013 Distinguished Hispanic Ohioan by the Ohio Latino Affairs Commission. She also participated in the American Society on Aging - New Ventures in Leadership Fellowship. Ms. Mendez was a former member of the Greater Cleveland Council on Older Persons (COOP) and the Chairperson of the Program committee. She has also has served on numerous nonprofit boards including the Nueva Luz Urban Resource Center, the Dolphin Heart Foundation, the LBGT Center of Cleveland, and Cleveland Rape Crisis Center.

Raised in Cleveland, at the age of thirteen, Nancy was awarded the A Better Chance (ABC) award, a four year scholarship and attended St. Mark's Boarding school outside of Boston, Massachusetts. Nancy received her B.A. in socio-economic history from Williams College.