After a year of building relationships and learning alongside local artists, we're looking for nonprofits in Cuyahoga County to "raise their hand" and tell us about their skills and creative ideas to help CAC to meet the diverse needs of artists in our community.
CAC seeks to partner with multiple nonprofits to support Cuyahoga County artists. Partners will receive CAC funding to provide programs, funding and support to meet the needs of Cuyahoga County artists and residents. We are looking for nonprofit partners to offer one or more of the following services/programs for artists:
Project-Based Funding
Unrestricted, Fellowship-Type Funding
Professional Development Support
Access to Physical Space
Connections to Institutions/Organizations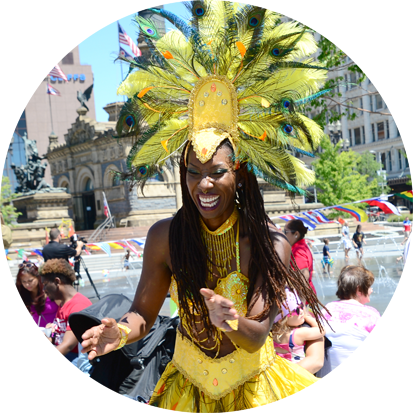 Complete the Call for Partners below, or learn more about the opportunity:
Our Commitment to Equity
CAC and its partners will strongly encourage applicants who have been historically marginalized or underrepresented. Priority funding goes to artists that foster artistic expression deeply rooted in and reflective of historically marginalized or underrepresented communities.
Informed by the Grantmakers in the Arts' "Racial Equity: Statement of Purpose," these communities include: African and African American; Latino/a; Asian and Asian American; Arab; Native American; Pacific Islander; lesbian, gay, bisexual, queer; transgender and gender variant people; people with disabilities; and women. Cuyahoga Arts & Culture also recognizes that some marginalized communities may not be listed here and encourages applicants to articulate and provide supporting evidence about the marginalization of any community or ethnic/people group not named above. Marginalized communities do not include fringe artistic disciplines.
Qualifications
Partner organizations must:
be a 501c3 nonprofit organization (exempt from federal taxation);
have demonstrated experience providing arts or cultural programs or services to artists or residents;
share in CAC's commitment to equity;
be nimble, open to change/learning/feedback;
have a collaborative spirit and demonstrated commitment to co-creation;
have meaningful relationships with Cuyahoga County residents; and
align with CAC's broad definition of arts and culture, as outlined in ORC 3381.
This call is open to both current and past CAC grant recipients (both General Operating Support and Project Support) and nonprofit organizations that have not previously received funding.
Timeline
Mid-May


Call for Partners announced


Thursday, July 12 (4:30 pm)


Call for Partners deadline


August


Panel reviews and scores submissions
Selected partners begin co-creation with CAC


Wednesday, September 12


Selected partners recommended to CAC's Board of Trustees

October 2018 - December 2019

Selected partners finalize agreements with CAC
Co-created programs and services take place
Questions?
Contact Jake Sinatra at 216.515.8303 x103 or jsinatra@cacgrants.org.