CPCP's Learning Lab is a cohort-based professional development program for artists and community organizations to develop partnerships for co-designed, arts-based projects.
With support from Cuyahoga Arts & Culture, the Center for Performance and Civic Practice (CPCP) is offering Learning Lab, a professional development program for artists and nonprofit organizations rooted in civic, social, public and placemaking practices. In the program, artists and local nonprofits build partnerships and receive funding to explore and implement co-designed, arts-based projects. Learn more about Civic Practice at thecpcp.org.
ABOUT CPCP'S LEARNING LAB
Twelve artists from Cuyahoga County will be selected through an application process to participate in CPCP's Learning Lab. Participating artists must commit to three day-long training sessions. Artists will attend the sessions with representatives from participating local nonprofits and after the sessions conclude, artists and local nonprofits will pair up in teams to develop a co-designed, arts-based, civic practice project. In-person and online coaching sessions support the conceptualization of projects. In addition to fully covering the cost of the Learning Lab program, CAC will offer $500 to each participant. Starting in January 2020, Learning Lab artists and community partners will:
Explore civic, social, and public artistic practices;
Examine how to build equitable community partnerships through a rigorous practice of listening;
Engage community partners in change efforts reflecting community-defined needs;
Learn how to successfully further expand their studio practice to include social and civic practices; and
Explore how their artistic tools can be utilized for community change processes.
Representatives of up to 12 Cuyahoga County-based nonprofits will participate in trainings and sessions alongside selected artists. Nonprofits and artists who complete the training will be eligible for up to $7,500 in funding (at least $5,000 of which goes directly to artists) to co-design arts-based public projects informed by Learning Lab's practices. Projects must take place between June 2020 and May 2021.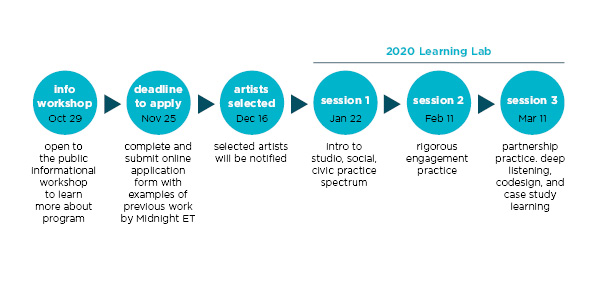 WHO
Selected participants will be artists who are interested in moving their practice into community-based work and exploring partnership and co-design. No prior public or civic practice work is required. Applicants may identify as any discipline. To be eligible, applicants must:
Live in Cuyahoga County;
Be at least 18 years of age;
Actively be pursuing a career as an artist, creative, scientist or naturalist*; and
Not currently be enrolled in a full-time degree-granting program related to their creative practice.
CAC strongly encourages applicants who have been historically marginalized or underrepresented. Priority funding goes to artists that foster artistic expression deeply rooted in and reflective of historically marginalized or underrepresented communities. Informed by the Grantmakers in the Arts' "Racial Equity: Statement of Purpose," these communities include: African and African American; Latino/a; Asian and Asian American; Arab; Native American; Pacific Islander; lesbian, gay, bisexual, queer; transgender and gender variant people; people with disabilities; and women.
*CAC defines artists as individuals whose practices include but are not limited to literature, theater, music, dance, ballet, painting, sculpture, photography, motion pictures, architecture, archaeology, history, natural history, or the natural sciences.
To be successful in the Learning Lab, an artist must have an existing creative practice or career; however, it need not be an artist's only or full-time pursuit.
Previous participants in CPCP's Learning Lab program may not apply.
SELECTION PROCESS
CPCP will select artist participants using the following criteria: expressed interest in community and/or experience working in a community setting; openness to collaborative co-design; demonstration of an established artistic practice; and commitment to racial equity. Selected artists will be notified in December 2019.
WHEN
Applications to the program will be available on October 29th at cacgrants.org/LearningLab. To apply, artists must complete and submit the online application form along with examples of previous work by Monday, November 25 at Midnight ET. Selected artists must attend all Learning Lab training sessions, no exceptions. Please make sure prior to applying that, if selected, you will be able to attend during the following dates and times:
Wednesday, January 22, 2020, 9 am - 4 pm (Session 1)
Tuesday, February 11, 2020, 9 am - 4 pm (Session 2)
Wednesday, March 11, 2020, 9 am - 4 pm (Session 3)
Artists will also need to be available for phone and in person coaching sessions and meetings with their paired nonprofit between April 2020 and May 2021. These meetings and coaching sessions will be scheduled at a convenient time for all parties. Project funding will be made available after June 2020.
LEARN MORE
If you need assistance or have questions, please contact Jake Sinatra at jsinatra@cacgrants.org or 216-515-8303 x103. Our office hours are Monday-Friday, 8:30 am - 4:30 pm.