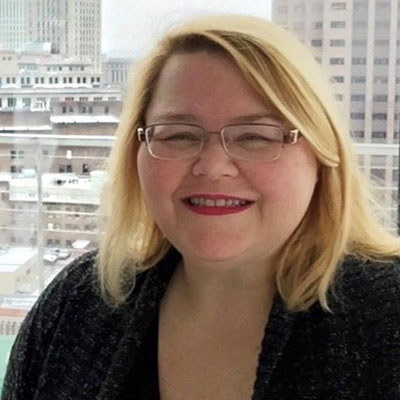 A longtime Lakewood resident, Karolyn Isenhart is an Assistant Auctioneer with Rachel Davis Fine Arts, a project manager at Endeavor Business Media and the President and Board Chair of the nonprofit Downtown Lakewood Arts Festival, Inc.
She is appointed to serve through March 31, 2024.
Ms. Isenhart has worked in the arts for over 30 years and as an auctioneer for more than 20 years. Her passion for the arts began with regular visits to museums and galleries, antiques, arts and music festivals with her family and grew with an appreciation of the work of new and established artists at galleries and music venues that spotlight the talent, depth and diversity of artists and performers in Northeast Ohio.
Her career began with Wolf's Fine Arts Auctioneers in 1989 and has continued with Rachel Davis Fine Arts, both auction houses with strong regional, national and international consignors and buyers. At Wolf's she rose to Director of Administration managing all marketing, consignors and auction activities for a calendar that expanded from six to twelve auctions per year. At Rachel Davis Fine Arts, Ms. Isenhart has had the opportunity to catalog an extraordinary collection of rare Margaret Bourke-White gelatin silver prints. She has also served as live auctioneer, pro bono, at dozens of benefits, most notably the Cleveland APL, Human Rights Campaign, Rock and Roll Hall of Fame and the PBS/WVIZ televised auction.
Ms. Isenhart's career also includes seven years at Ulmer & Berne LLP working in Marketing and Recruiting and managing the firms' extensive charitable giving budget and website. Leveraging her deep experience in marketing and technology, she worked at Xerox for six years producing training websites and webinars for Xerox and many large corporations. Having joined Penton Media in 2016, now Endeavor Business Media, Ms. Isenhart focuses on project management, producing over 200 webinars and virtual roundtables a year for their eight Manufacturing brands, including IndustryWeek and EHS Today, among others for a range of companies from start-ups to Fortune 500 and Fortune 50.
As President and Board Chair of the Downtown Lakewood Arts Festival, the non-profit that conducts the annual Lakewood Arts Festival, Ms. Isenhart combines her love of the arts and her hometown, Lakewood. Founded in 1978, the festival and has welcomed artists and collectors to Lakewood for 45 years. The festival and its patrons fund a scholarship for high school Seniors attending art school and grants for arts programs in Lakewood. Under her leadership, the work of the Board has broadened outreach, opening the juried show to a new and diverse generation of artists creating fine art, ceramics, glass and more; strengthened the audience of attendees through targeted marketing not only in print but also radio, digital/new media; expanded live entertainment; and increased outreach to students for the scholarship program.
She has previously served on a variety of Boards and organizations including Arts Collinwood, Lakewood's Citizens Advisory Committee; and as a volunteer and advisor for successful community initiatives and campaigns. Her first volunteer work in the arts was in grade school as a member of the Junior Guild for the Great Lakes Shakespeare Festival in its original home, the Lakewood Civic Auditorium.
Ms. Isenhart holds a Bachelor of Arts from Baldwin-Wallace University and is a proud graduate of the Reppert School of Auctioneering in Indiana.