Two Trustees Appointed to Cuyahoga Arts & Culture's Board
Photo Credit: Bob Perkowski
CLEVELAND (September 12, 2017) – Gwendolyn Garth has been reappointed and Kenneth Miller has been appointed by County Executive Armond Budish to serve three-year terms on the Cuyahoga Arts & Culture (CAC) Board of Trustees. Cuyahoga County Councilman Pernel Jones, Jr. was present at the board's September 11, 2017 meeting to swear in the trustees.
Ms. Garth of Cleveland, a community activist and artist with Kings & Queens of Art, has served on the board since 2016 when she was appointed to fill an open, unexpired term. Mr. Miller is a veteran journalist and came to Cleveland from Los Angeles in 2015 to run the Call and Post. Their terms begin April 1, 2017 and run through March 31, 2020.
"We are delighted that Gwen Garth and Ken Miller will serve on CAC's Board of Trustees," said Joseph P. Gibbons, CAC board president. "Their passion for the arts and their skillsets are a great asset to our board and to the community they serve."
Cuyahoga Arts & Culture is governed by a Board of Trustees consisting of five members who serve rotating three-year terms without compensation. Board members are appointed by the Cuyahoga County Executive and confirmed by Cuyahoga County Council. All meetings are open to the public, and members of the community are welcome to attend.
Learn more about Cuyahoga Arts & Culture's Board of Trustees and view a schedule of upcoming meetings at cacgrants.org/about-us/board.
Cuyahoga Arts & Culture (CAC) is one of the largest public funders for arts and culture in the nation, helping hundreds of organizations in Cuyahoga County connect millions of people to cultural experiences each year. Since 2007, CAC has invested more than $158 million in 350 organizations both large and small, making our community a more vibrant place to live, work and play. For more information, visit cacgrants.org.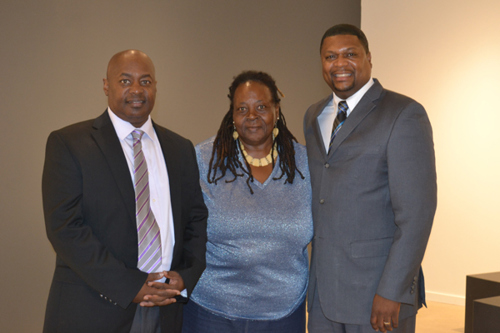 Photo - Courtesy of Cuyahoga Arts & Culture – Pictured (left to right): Kenneth Miller, Gwendolyn Garth, Councilman Pernel Jones, Jr.