Cleveland Public Theatre - Photo by Steve Wagner
Photo Credit: Steve Wagner
Enhancing Education
Funding from Cuyahoga Arts & Culture enhances education, by creating learning opportunities for residents of all ages. CAC-funded organizations serve 1.4 million children each year through educational experiences such as field trips and in-school programs.
Spotlight On: Youth Education
Through Cleveland Public Theatre's Student Theatre Enrichment Program, which is funded in part by Cuyahoga Arts & Culture, Cleveland teens experience an arts-based job training program every summer. Students participate in a powerful, eight-week intensive that focuses on excellence in performance, play creation, writing and production. Students earn money while learning and practicing valuable job skills. Under the guidance of artistic mentors, teens develop an original play and perform it in public parks throughout the City of Cleveland.
Enriching Quality of Life
Cuyahoga Arts & Culture enriches our quality of life, by funding tens of thousands of events and activities throughout Cuyahoga County.  Each year, CAC-funded organizations serve nearly six million residents and visitors, and nearly 50% of admissions are free of charge.
Spotlight On: Festivals
Cleveland Asian Festival celebrates, educates and promotes all Asian cultures during a festival held in Cleveland's Asia Town neighborhood each May. In 2014, more than 38,000 residents attended the two-day festival.
Waterloo Arts Fest is one of Cleveland's many community arts festivals, attracting up to 10,000 visitors each June. A community-driven event, the free Waterloo Arts Fest offers visitors performing and visual arts, hands-on artmaking, interactive family fun and an artist marketplace.
Valley Art Center's Art by the Falls is a two-day, juried fine arts and contemporary crafts festival, now in its 32nd year, held in Chagrin Falls each June. 15,000 visitors from around the region return yearly to view and purchase the work of 120 artists from around the country.
Supporting Our Economy
CAC-funded organizations support Cuyahoga County's economy through more than $342 million in direct expenditures, including more than $149 million in salaries; and they support nearly 9,000 jobs.
Spotlight On: Economic Development
In addition to being the largest performing arts center in the country outside of New York, Playhouse Square focuses on making its neighborhood an important anchor for the City of Cleveland and downtown area. The district has become a dining destination, with 16 restaurants, the Wyndham Hotel and other local businesses, and recently added residential living (with a 100% lease rate and waiting list).
Employs more than 430 workers
Attracts more than one million guests to 1,000+ performances and events each year
Generates an estimated $60 million in economic impact in Northeast Ohio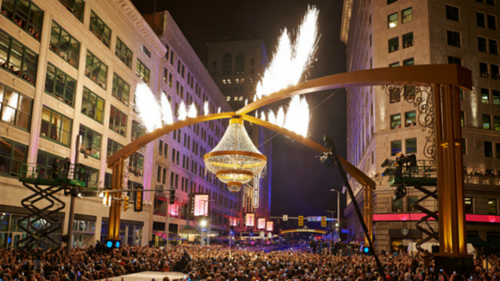 Read a short article about Playhouse Square and its impacts on Cuyahoga County's community and economy.