Report to the Community: Our Story is YOUR Story
The tremendous array of programs, events and organizations that Cuyahoga Arts & Culture funds each year are made possible by the residents of Cuyahoga County.
Public investment in arts and culture enriches our community and makes Cuyahoga County a great place to live, work and play. It enhances educational opportunities for lifelong learning, and advances economic opportunities for our region.
Read the 2013 Report to learn how our cultural partners are strengthening our community through their work.
---
Enhancing Education
Cleveland Museum of Natural History
Founded in 1920, the Cleveland Museum of Natural History is renowned for research and collections that form the basis of its exhibits, programs and educational research. Through its Inspire: Reach Every Child program, the Museum collaborates with the Cleveland Metropolitan School District to provide multiple museum visits to all approximately 2,500 second-grade students (and their families) with customized lessons integrated into the scope and sequence of their curriculum. Read more about the program.
In 2013, the Museum:
Served 266,797 visitors, including 75,501 school-aged children.
Hosted 2,523 field trips.
Offered 172 classes attended by 2,157 people.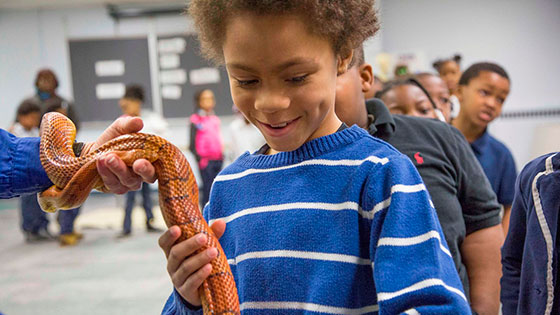 ---
Enriching Quality of Life
Cleveland TOPS Swingband
Since 2003, Cleveland TOPS Swingband has been performing classic big band music for seniors, in senior centers, assisted living facilities and public venues free of charge. Its 35 members, comprised of dedicated, mostly retired professional musicians, are committed to providing classic big band music for senior by seniors. The group reaches out to seniors throughout Cuyahoga County to provide musical memories and enhance their quality of life.
Through its Keeping Seniors Swinging project, Cleveland TOPS Swingband performs for mainly low-income seniors in assisted living facilities and senior centers who would otherwise not have access to live cultural or musical performances.
---
Supporting Our Economy
Rock and Roll Hall of Fame and Museum
The Rock and Roll Hall of Fame and Museum is recognized as a vital economic engine in Northeast Ohio, creating jobs and serving visitors from Northeast Ohio and around the world.
Since opening in 1995, the Museum has welcomed more than 10 million visitors and driven more than $2 billion in economic impact to the regional economy.
In 2012, the Rock Hall hosted 469,034 visitors, including 19,237 school-aged children; and it supported 140 jobs, including full-time, part-time and contract employees.
---
Other Reports